Book Outdoor Security Lights Now
Fill out the form to get a callback!
Arrange an outdoor security light installation via this quick callback form.
Outdoor Security Lights Professionally Installed in Lancashire!
Security lighting is an essential part of your properties safety in this age and it's not always practical to 'bolt things down'. As part of a range of security services, AerialGuy can provide services that will light up your homes garden paths and driveways, to provide security around your premises. Also, the outdoor security lighting installations are of high quality and are as discreet as possible.
Outdoor security lighting fixtures comes in all styles, colours, powers and sizes. With a host of features to accompany them, listed below are some of the most common requests;
Standard Outdoor Flood Light
Starting with the most basic of systems a single floodlight, where the system is designed to turn on simply via an indoor switch to illuminate your desired area.
Multi Security Light System
Install multiple outdoor security lights around your premises, i.e. front, back and sides. You can add as many security lights as required for your properties security needs.
PIR Motion Detection Sensor Security Light
These outdoor security lights can detect movement. Motion within the sensors range will light up your home and garden. PIR Sensors activate your security light system when an intruder is detected. Settings for light duration and sensor sensitivity. Passive Infrared Sensors are a great addition to any security light system,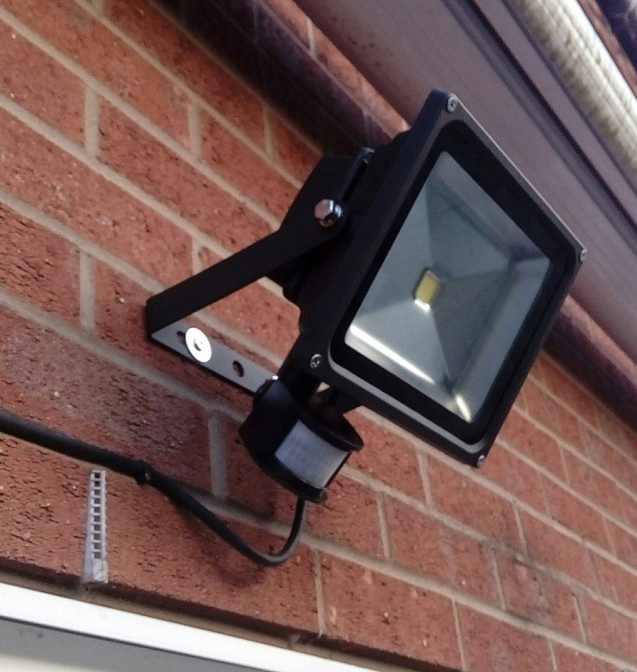 We promise to always use the best equipment available and ensure you get the best value!